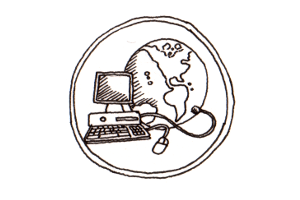 Green computing
, 
green IT
 or 
ICT Sustainability
, refers to environmentally sustainable computing or IT. In the article 
Harnessing Green IT: Principles and Practices
, San Murugesan defines the field of green computing as "the study and practice of designing, manufacturing, using, and 
disposing of computers
, servers, and associated subsystems—such as monitors, printers, storage devices, and networking and communications systems — efficiently and effectively with minimal or no impact on the environment."
[1]
 The goals of green computing are similar to 
green chemistry
; reduce the use of hazardous materials, maximize 
energy efficiency
 during the product's lifetime, and promote the 
recyclability
 or 
biodegradability
 of defunct products and factory waste. Many corporate IT departments have Green Computing initiatives to reduce the environmental impacts of their IT operations.
[2]
 Green ICT and its services present opportunities to deliver low carbon footprints and mitigate carbon emissions because of the unique ability to make energy consumption and green house gas emissions visible through
its products and services 
[3]
From Wikipedia, the free encyclopedia