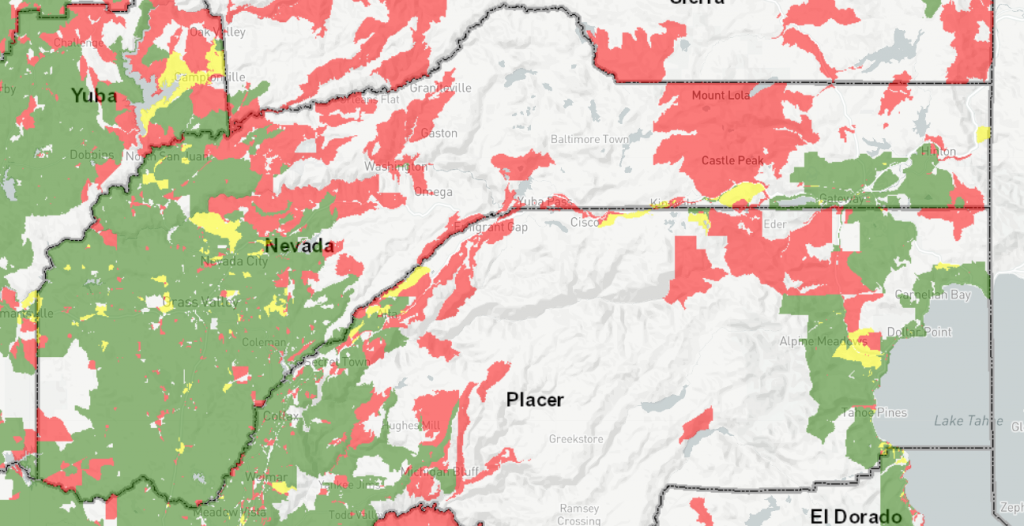 Complete List of Available Internet Options
List is sorted by relative speed, and type.
Fiber Internet (synchronous)

AT&T ABF (AT&T Business Fiber) Shared : The BEST option if available.
SERVICE AREA: Metro
AT&T ADI (AT&T Dedicated Internet) aka MIS (Managed Internet Service) ATT Dedicated Business Fiber (Available many places, but very expensive) ~$500/month for 10Mbps ~$2300/month for 1Gbps symmetrical up to 10Gbps
SERVICE AREA: Most places
Vast Networks vastnetworks.com Coverage map
A middle-mile project that had been funded by the American Recovery and Reinvestment Act (ARRA)
NOTES: Can be a better price than ADI, like $1000/month for 1Gbps symetrical.
Not sure about last mile.

Race Communications race.com (Zone 1 has been completed)
SERVICE AREA: On Hwy 174 to Airport in Grass Valley
NOTES: Goes DOWN many times a week! Speeds are much slower than advertised. Is well priced at ~$100/month for 1Gbps symmetrical.

Newtown Fiber? (VAST)
SERVICE AREA: Newtown rd.

Nevada County Fiber (Not built yet) (ATT)
SERVICE AREA: Banner Mountain
www.nevcofiber.com/
The Northern Sierra Broadband Project (Not built yet) (ATT)
SERVICE AREA: Buck Mountain Road, Oak Drive, Arianna Court, Mountain View Court, Sunset View Court, and Mountain Park Court, in unincorporated Grass Valley
Spiral Fiber (Not built yet) (Vast)
www.spiral.com/
SERVICE AREA: north of the Nevada City limits in the Lake Vera Purdon Road and North Bloomfield Road neighborhoods
plumassierratelecommunic…
SERVICE AREA: Truckee

Cable Internet

Comcast (Xfinity)
SERVICE AREA: Grass Valley, Nevada City, Penn Valley areas
Comcast business
SERVICE AREA: same as above
SuddenLink
SERVICE AREA: Alta Sierra, parts of south county, Truckee areas

Fixed Wireless

Treelink – distributed mesh
Signup here: treelink.us/
Althea blockchain technology althea.net/
SERVICE AREA: Outside of Nevada City
NOTES: Uses ADI (AT&T Dedicated Internet), and Comcast as exit nodes.

5G Cellular Internet (Not available yet in our area)
Low Earth Orbit Satellite Internet

Starlink Current round is sold out in our area. RV edition also is sold out in our area. Waitlist is until 2023.

4G & LTE Cellular Internet Hotspot

Verizon
AT&T
T-mobile
Oasisbroadband? (Resells ATT and T-mobile)
or third party resellers of the above networks… Check out all your options here:
en.wikipedia.org/wiki/Li…

DSL (aDSL) or U-verse (aDSL2+ or vDSL)

AT&T Internet – U-verse (aDSL2+) Digital Pair Gain from a fiber connected terminal
Third party ATT resellers

Omsoft in Davis (Subcontracts to SonicNet)
SERVICE AREA: Grass Valley, Nevada City, Penn Valley, and Truckee areas
No data limits

AT&T DSL Legacy (Shutting down June 30th 2022)

Copper from the main office (No longer available from ATT in many places)

Geosynchronous Orbit Satellite Internet
(!low on list because of High Latency realtime interaction is delayed)
3G Cellular Internet Hotspot (Average 600Kbps – 1.4 Mbps and up to 3.1 Mbps)
ATTENTION: All carriers are disabling 3G by 2022.

AT&T,
T-mobile,
or third party resellers…

ISDN – Integrated Services Digital Network
Not sure this still exists…
56K Modem over AT&T phone line
Low income Internet programs:
Many of these now use the ACP program.
As you can see, www.nevadacountyca.gov/1…, needs some updating.
Coverage Maps
California coverage map: www.broadbandmap.ca.gov/
Federal coverage map: broadbandmap.fcc.gov/.
(Hopefully, this should be more accurate by the end of Summer 2020: www.benton.org/blog/cong…)
Background
Many in Nevada County live outside the city centers. Combined with the varied terrain, and heavy forests. This makes finding a reliable and fast internet connection sometimes exceedingly difficult.
Broadband internet is currently defined by the FCC as 20Mbps down and 3Mbps up with latency of less than 100ms. More recently it has been mentioned by California as 25Mbps down and 25Mbps up with latency suitable for real time interaction.
Only Fiber and Cable offer upload speeds that high. Fixed wireless, and occasionally 4G LTE Cellular can offer adequate download speeds. If possible, Fiber and Cable are the top choices for speed and reliability. There are many areas in Nevada County that do not have any internet options or can only access internet over unreliable high latency satellite, cellular or wireless connections. This is a huge issue. Part of the problem is that many ISPs (Internet Service Providers) are misreporting areas served. Or, reporting that they serve the whole block if they serve a single house within the block. Also, many ISPs try to block new companies or municipalities from serving these misreported areas. As well as cause problems for new ISPs getting grants.
There are currently many grants, and bills in the works to expand broadband into rural areas like Nevada County. Much of this is overseen by The California Public Utilites Commision (CPUC): www.cpuc.ca.gov/Communic…
Using the California Coverage Map, you can see which areas are supposedly served, and what speeds you should get. You can also see which areas are eligible for two of these grant programs; the California Advanced Services Fund (CASF) Infrastructure Grant, and the Connect America Fund Phase II. The CASF has a local presence through the Sierra Business Council called the Gold Country Broadband Consortium. Nevada County has a page with some of the projects they have worked on regarding to broadband
here: www.mynevadacounty.com/1….
The rural digital opportunity fund is also in the works. There are may be some more grants coming with this bill too:
www.engadget.com/house-a…
More recently there have been a bunch of reverse auctions by the FCC to disburse grant funds. The newest round of rural broadband grant winners interactive map: experience.arcgis.com/ex…
Some info from: www.nevadacountyconnecte…
Here is a spreadsheet of the above data: docs.google.com/spreadsh…
More Reading
Also check out this www.nevadacountyconnecte….
More reading: thesungazette.com/articl…
Get Involved!
asfi sheheen netequity.net