The goal is to be able to work on the laptop sitting, standing, kneeling, or lying down. Easily.
A little post on treadmill workstations by Neal Stephenson:
www.nealstephenson.com/n…
Sitting at a desk
For sitting I use my existing desk. I use an external keyboard and mice.  Goldtouch keyboard wired and 2x Penguin mouse wireless. This stand, and these mouse platforms. Photo below. You can also use this setup to hold a larger external display for your laptop, if you put your laptop below. It's also good for larger laptops. I'm sitting on a buckwheat zafu, both for height and comfort. (I'm 6ft). I sometimes swap the chair for the yoga ball you see in the mirror. Sometimes I kneel or squat. I would like to try a kneeling chair. I wheel this to the foot of my bed to watch movies.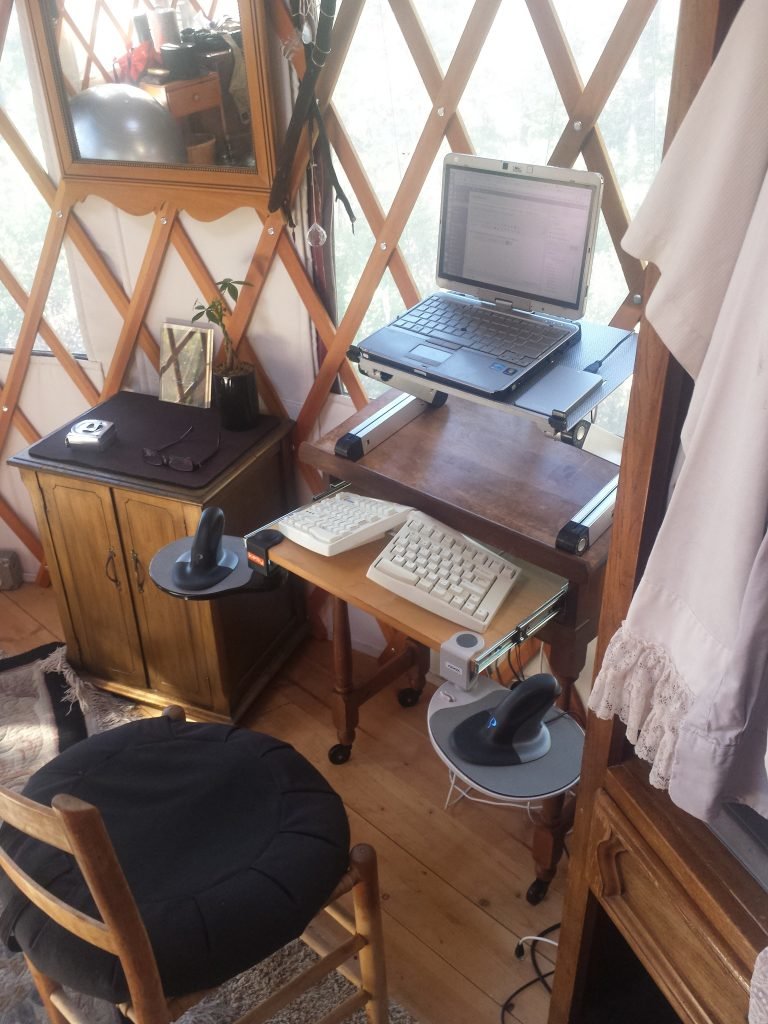 Sitting on a zafu on the ground
Standing
Kneeling
I use the same stand that I use for sitting.
Lying Down
<– Might be just what I'm looking for. If I put it on my existing desk for standing, and sitting. Not sure how good it'll be for kneeling. Looks like it is very suited to lying down.
 <– Seems like with my existing desk I could do everything. Not sure about lying down. I ended up buying the silver one. The red one does not come with the mouse platform. I'll check back with my thoughts.
Also,
For $280 the Zen office let's you do everything. Not sure about lying down.
www.zafu.net/zenoffice.h…
This is obviously the one for me!
$187 just for the larger tilt seat:
www.shop.bodyfriendlyfur…
$50 Meditation bench on eBay:
rover.ebay.com/rover/1/7…
with Blue lotus painted on top
rover.ebay.com/rover/1/7…
<— Good if you need to sit or kneel. Combined with one of the ones above you can stand too.
<– Good for standing. Is on wheels.
<– Good for standing, or sitting if you already have a desk.